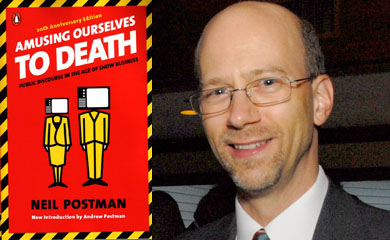 The first in a series of interviews with SUNY Geneseo faculty on their reading interests, today's "Faculty Bookshelf" starts off with Andrew Herman, Associate Professor and Chair of the Communication department.
What are some current research interests?
I'm currently working with two Milne librarians to study the effects of teaching plagiarism in the classroom.  Depending on the type of instruction they are given – is it positive?  Is it negative? – does that translate to how motivated they are to cite sources when they are writing papers?  What is the intrinsic motivation behind citations?  Can we as instructors provide more motivation to get students to cite? 
What is your favorite literary genre to read for pleasure?
Hmmm….I don't have a particular genre I follow, I mostly read fiction, but I also like biographies.
What book is on your nightstand now?

You mean my "metaphorical" nightstand, right?  The Bible is always there, and I'm currently reading (or trying to read!) The Book Thief by Marcus Zusak.  It's a novel set during World War II about a little girl who steals books and is narrated by Death.  I'm also trying to read the second book in the Hunger Games trilogy, Catching Fire, since I'm reading the first one with my family.
Tell me about a book that changed your life and why:

The Bible greatly influenced and changed the direction of my life.  In high school I read George Orwell's 1984 and Aldous Huxley's Brave New World, two influential books, but it wasn't until college and my MA program when I read Neil Postman's Amusing Ourselves to Death that I realized their impact.  I read passages in Postman's book about Orwell's 1984 and was struck by the opposition to the Orwell text, but also the startling similarities to Huxley's Brave New World.   Postman's book examines our level of indifference as a society, much like Huxley, which is a contrast to the totalitarian government found in Orwell.  These books changed how I viewed society.
What were your favorite books as a child?
I was a big fan of the Horatio Hornblower series of books by C.S. Forester. The books are about a British Royal Naval officer, set in the early nineteenth century.  I also loved Lost Horizon, an older novel about a plane crash and the protagonist's discovery of a utopian society in Tibet.
Know of any faculty members we should interview for Faculty Bookshelf?  Contact Tracy Paradis with suggestions!